NEW!!!! All current playlists are now here:
http://recipeforfitness.com/workout_music.html

Chelle's iTunes Playlists for Cardio & Strength Training...
View my "I kick butt, keep me motivated" playlist w/lyrics...
Current Mix: This is what's in my shuffle now...
Current Workout Playlist...
September 2011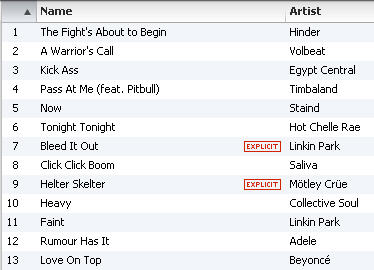 Additionally, I am loving the playlists put together by DJ Rolemodel. Visit his website to listen and download (free!). http://djrolemodel.com/
Full List for last week of cardio sessions (prep for competition) - it's a long list, I could just let it run through several sessions.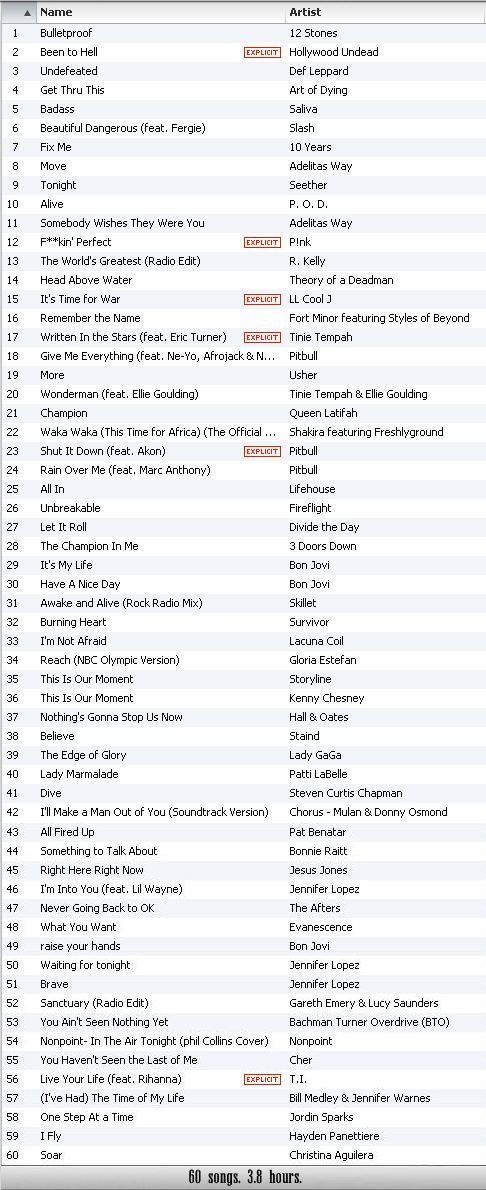 This was my final cardio session's soundtrack... it was awesome!! I did 40 minutes on the treadmill with this list and when I was done, I was fired up and ready to hit the stage!!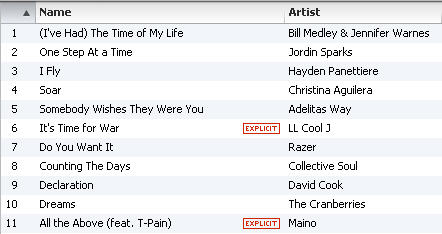 August HIIT Cardio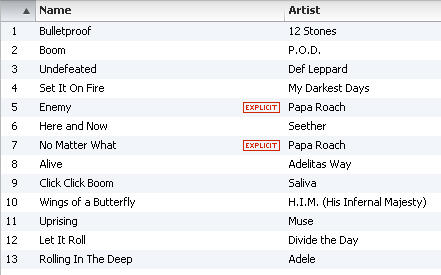 August Steady-State Cardio - NO judging! :-)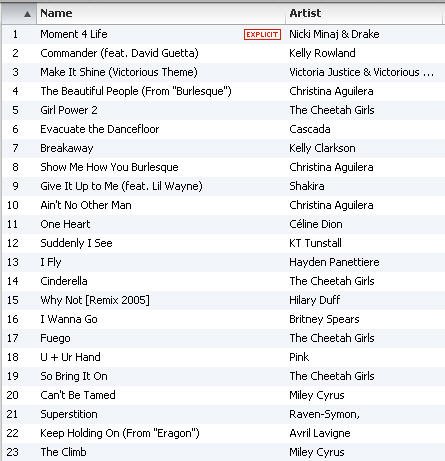 July HIIT Cardio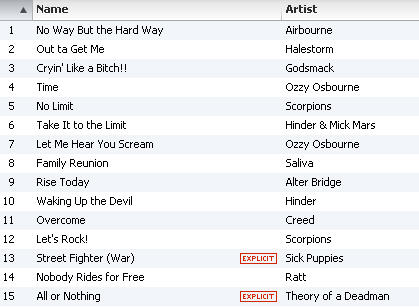 July Steady-State Cardio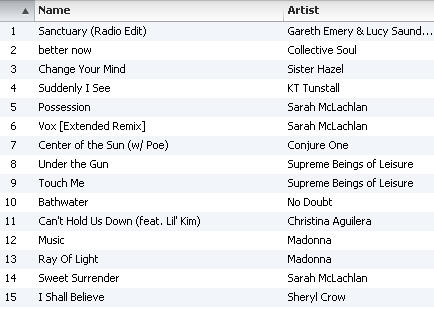 June - Weights 1 hr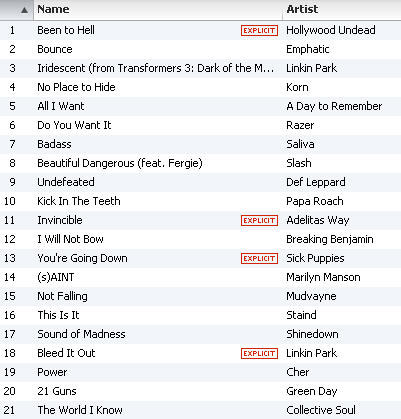 June - Cardio 1 hr (to allow for cardio time plus stretching)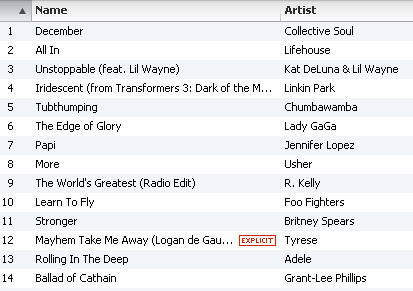 May - Weights & Cardio 1.1 hr
This list is a FREE download! Get the individual tracks, or everything in one (that's my preference). I LOVE this list! I've even used it for my Sunday Food Prep soundtrack - it's awesome and keeps me bouncin! :-)
Download it FREE here: http://illegal-art.net/allday/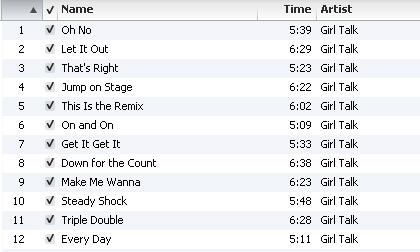 April Weights playlist: 1 hr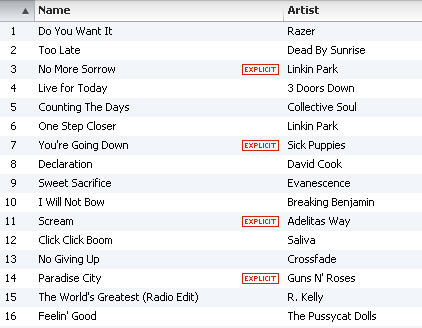 April Cardio playlist: 48 minutes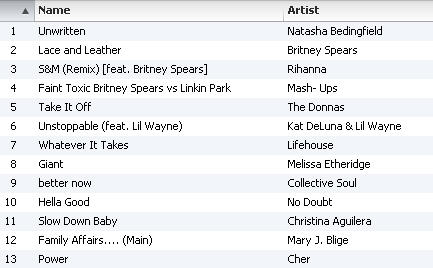 March Weights playlist: 1 hr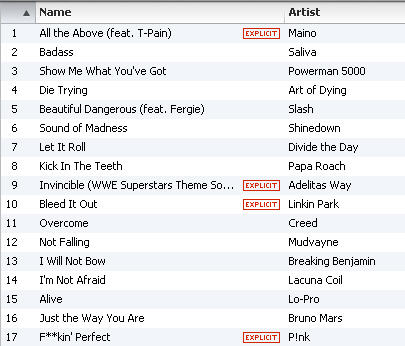 March Cardio playlist: 1 hour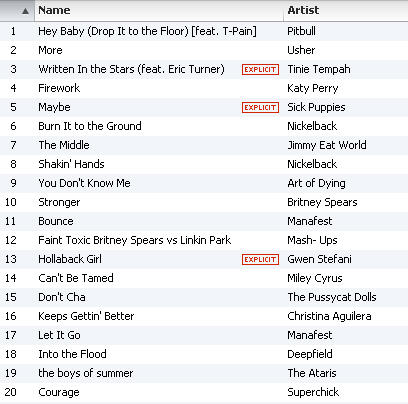 February - Cardio - 45 min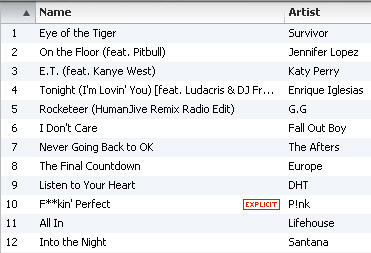 February - Weights - 1.4 hrs
(this is good for an hour weights session followed by some cardio, too)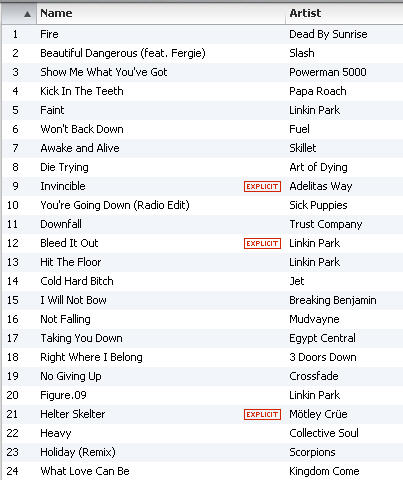 February 2011 - Lifting - 1.1 hours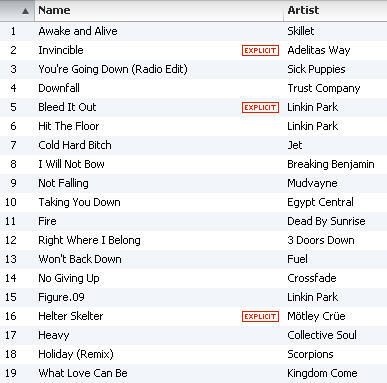 January 2011 Cardio - 35 minutes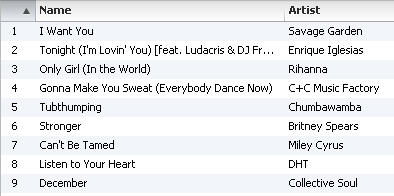 November 2010 - 59 minutes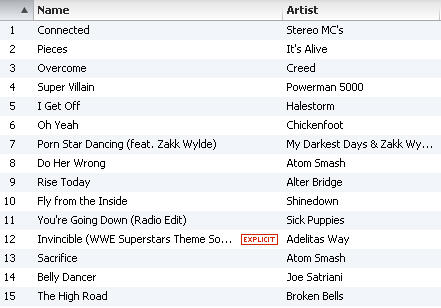 October 2010 - 1.1 hours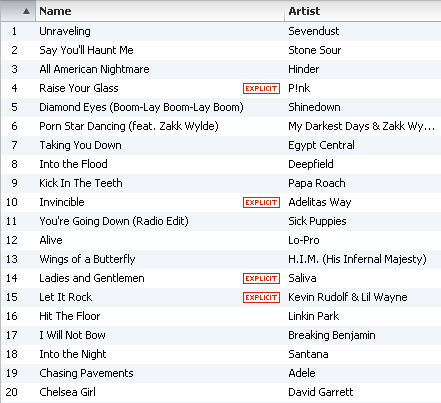 September 10, 2010 - 50.6 minutes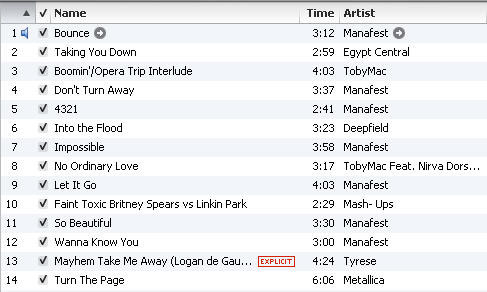 August 18, 2010 - 60 minutes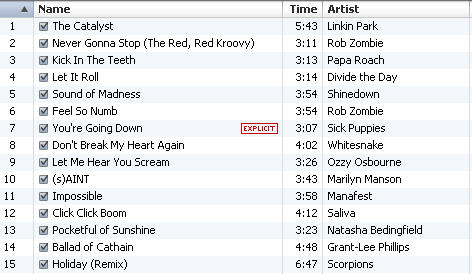 Never heard of the Ballad of Cathain? Allow my geekiness to show... Awhile back there was a TV show called Witchblade (2001-2002). It was my favorite! Truly! I cried when it was cancelled. Anyway, one episode (Season 1:4, Sacrifice) featured Kim De Lury (as Conchobar) and the song Ballad of Cathain was pivotal to the plot. I fell in love with the song (I'm a sucker for almost anything Irish, btw). It took me forever to find the mp3! Anywhooo... it's a great cool-down/stretch tune. Listen to it by clicking here or right click and select "save as". The song was written and performed by Grant Lee Phillips.
7/27/10 - 1.2 hours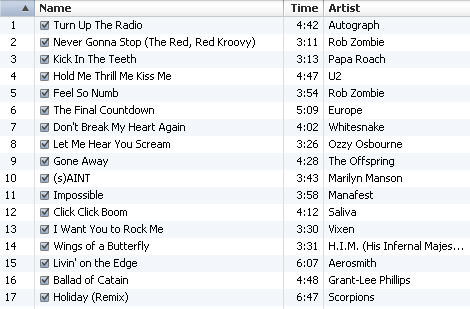 5/6/10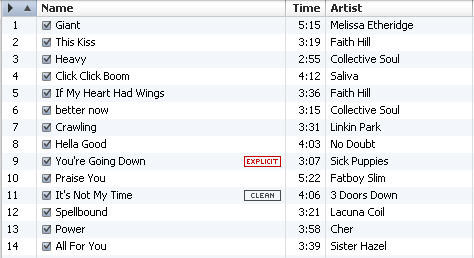 April 2010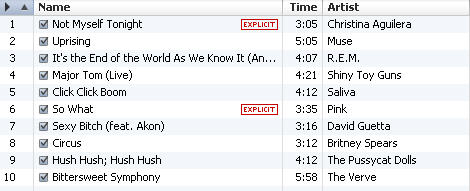 Current Weight Lifting sessions...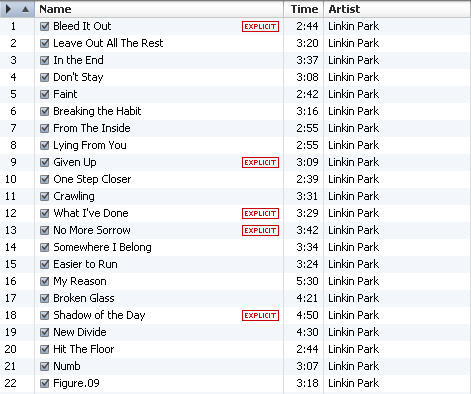 5K prep cardio sessions...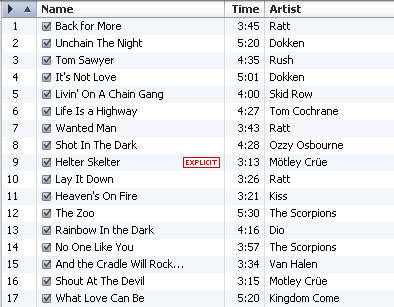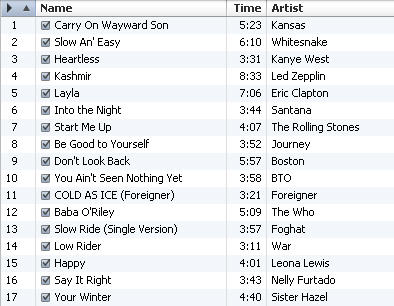 Regular shuffle list 2: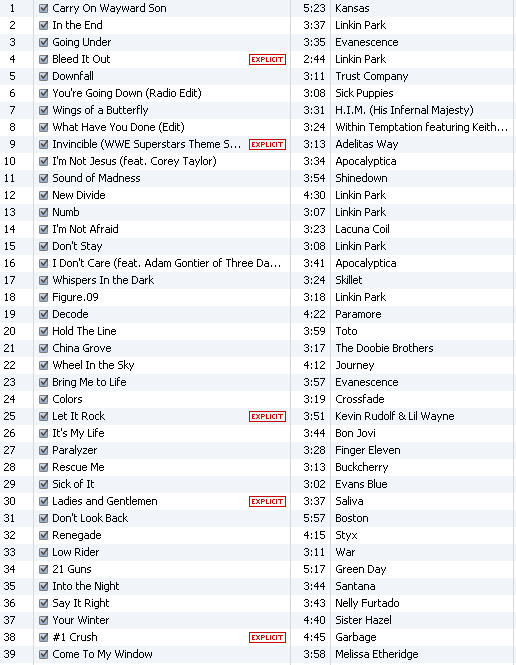 Random Cardio Tunes...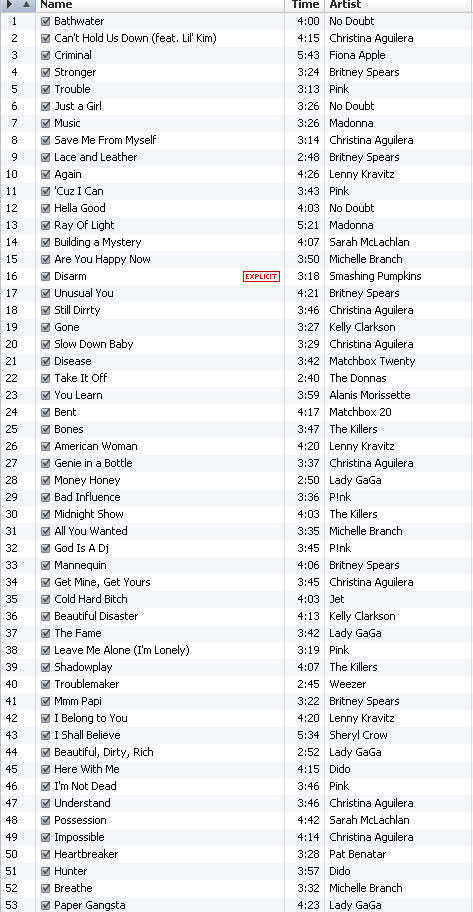 ---
My Cardio Playlists...
I use these for sessions on the Elliptical, Treadmill, Boxing, Stair Monster (I mean Climber), or running. The first song in most mixes is a "warm-up", then full cardio speed, then the last song or three are "cool-down and stretching". The lists vary in length, since I use some to carry over from my cardio into a strength training session.
Duration 1 hour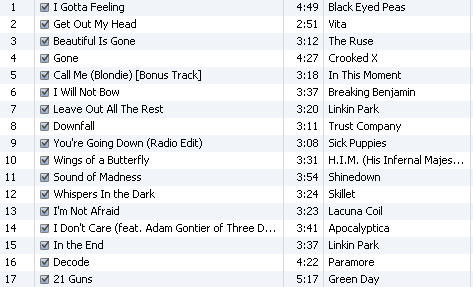 Duration 1 hour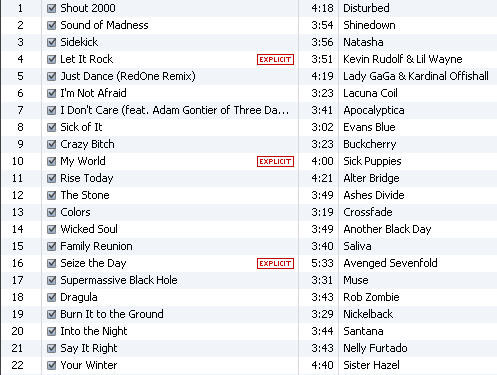 Duration 1.4 hours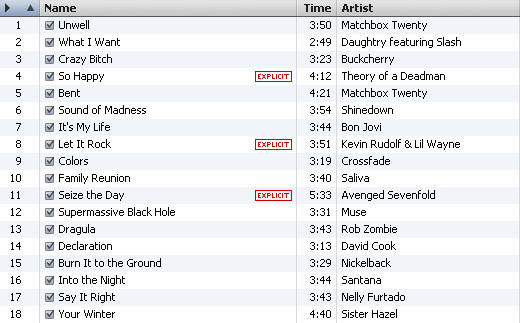 Cardio / Workout Mix: Duration 1 hour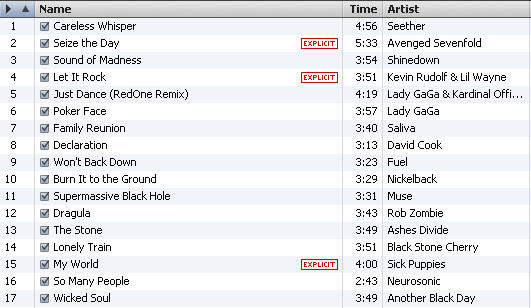 Cardio Mix 1: Duration of 43 minutes


Cardio Mix 2: 46 minutes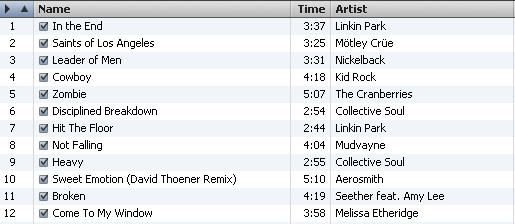 Cardio Mix 3: 32 minutes


Cardio Mix 4: 46.1 minutes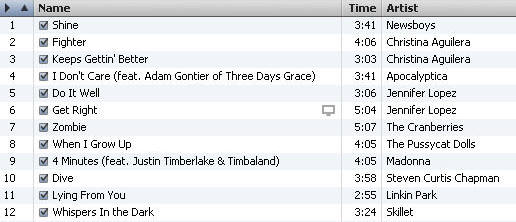 Cardio Mix 5: Duration of 1 hour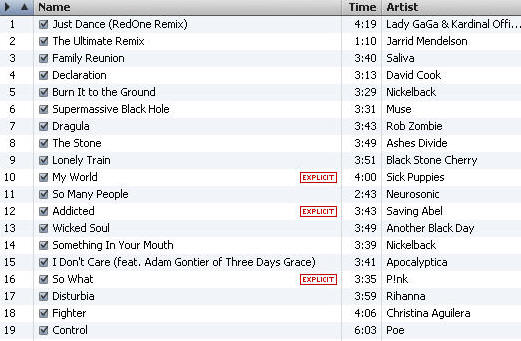 Cardio Mix 6: Duration of 1 hour